By Paizo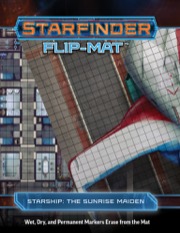 A new Starfinder Flip-Mat has landed!
Whether the heroes are hopping between neighboring planets or exploring distant worlds on the frontiers of the galaxy, no Game Master wants to spend time drawing every cabin and companionway on a starship. Fortunately, with this double-sided, oversized Starfinder Flip-Mat, you don't have to! Starfinder Flip-Mat: Starship, The Sunrise Maiden features two ready-to-use science-fantasy scenes, designed specifically for use with Starfinder's Dead Suns Adventure Path but suitable for play with any space-based adventure. The detailed interior of the Sunrise Maiden starship is depicted on one side while the exterior of the ship inside a docking bay is shown on the other.
Don't waste time sketching when you could be playing. With Starfinder Flip-Mat: Starship, The Sunrise Maiden, you'll always be ready when your players head for the stars!
We also carry an impressive cosmic array of Star Wars miniatures singles and Reaper miniatures to help set the scene for your next game—many of which work very well with Starfinder!
Be sure to check out the other great Starfinder products available here on paizo.com!