By Paizo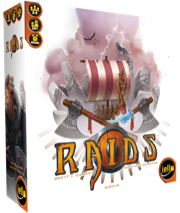 Raids—the latest Iello game from the designing duo behind Pyramids and Fairy Tile—is now available for preorder!
In Raids, prepare your crew and steer your Longship to the best locations to discover the most treasure and earn the greatest glory. Another player may have his sights set on the same location as you. Don't hesitate to order yo ur Vikings aboard his ship to threaten him and try to make him flee. Only one of you can leave with the treasures you've discovered!
The player with the most Glory points at the end of the fourth Voyage wins the game.
Players: 2-4
Ages: 10+
Play Time: 40 min
Category: Strategy game
Contents:
4 Longship markers
4 Longship boards
40 Viking pawns
20 coins
1 World board
9 Harbor tiles
64 Voyage tiles
1 rulebook
There are many more board and card games within the Golem Sale & Clearance, and we're routinely adding products to our $5 and Under Bin and Board Game Clearance!